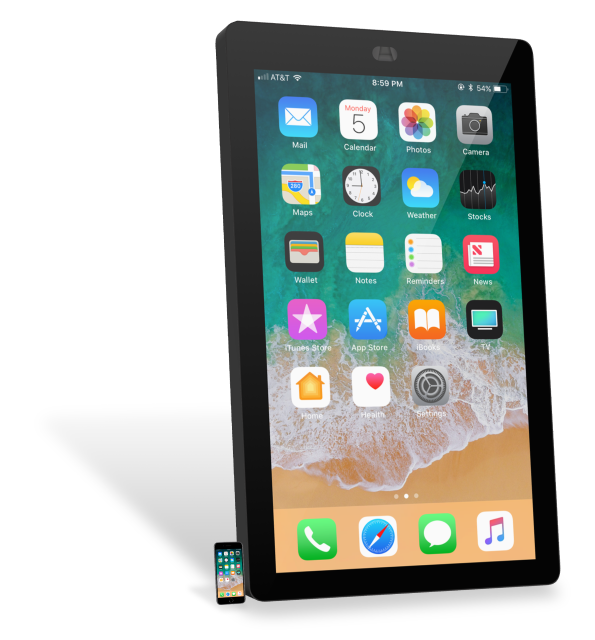 Touch Screen Kiosk Rental
Why your next event or business needs a Padzilla touch screen kiosk
The world of business is constantly evolving, and the need to keep up with the latest technology is more essential than ever. One such technology advancement is the use of touch screen kiosks. And when it comes to the best touch screen kiosk rental, nothing quite beats the Padzilla.
What is Padzilla?
Padzilla is essentially a giant iPad-style touchscreen, available in 43", 55", and 65" sizes. It connects seamlessly to your iPhone and generates a functional interactive kiosk touchscreen, complete with multiple touch points. This innovative giant touchscreen technology is made by Crunchy Tech, an Orlando-based audio and video integration company who started their journey back in 2008. The idea behind Padzilla was to create an easy-to-use, high-quality touchscreen display that natively supports IOS, so tech companies can showcase their applications and brand in style at trade shows and meet other custom business's unique requirements.
The Ultimate Touch Screen Rental
Padzilla is the world's largest iPhone accessory that offers an unmatched touch screen rental experience. It's not just an emulation; it provides a genuine native iOS experience, allowing you to open and use any app you want. Whether you want to showcase your latest app, connect with potential customers at a trade show, or celebrate a significant business milestone, Padzilla is the event kiosk you need. Available in sizes ranging from 43″, 55″, to 65″, this digital touch screen ensures that your brand or product takes the center stage and grabs the attention of your audience.
Interactive Touch Screen Features
Padzilla's interactive touch screen capabilities are truly unmatched. With its familiar iOS system, users can effortlessly navigate using features like swipe-up for Home, volume controls, and even a front-facing camera. This ensures that the Padzilla display feels and operates just like a giant iPad, providing an incredible user experience. Additionally, Padzilla offers state-of-the-art technology with single touch iOS controls, creating an authentic and interactive display experience that perfectly mimics using an iPhone. From its multiple touch points to the convenience of front-facing camera compatibility with popular apps like Facetime and TikTok, Padzilla truly embodies the essence of a self-service kiosk.
It's a Giant iPhone
At the heart of the Padzilla is its ability to connect seamlessly to your iPhone. Once connected, you have complete control over your device from the touch screen giant iPhone. You get full access to all the essential features such as swiping up to go home, volume control, camera, and more, creating a seamless and easy-to-use touch screen kiosk making the Padzilla the perfect touch screen kiosk to rent.
One of the best things about using a Padzilla is the opportunity to customize your content. You can tailor the entire display to suit your specific business needs. Whether you want to display a range of products, services or show off an interactive map of your office location, everything is possible with Padzilla. It's an excellent opportunity for businesses to put their brand in the spotlight and make a lasting impression on their customers.
Renting Padzilla for Your Event
If you're searching for "touch screen kiosk rental", look no further.
Whether you're thinking about buying a Padzilla for your business or renting one for a trade show, Padzilla has got you covered! This incredible event kiosk is designed to captivate and engage, making sure your product or brand stands out. You can even customize your experience with different accessories like rotating mounts and protective covers. Padzilla ensures that your touch screen rental experience is tailored just for you. And don't worry, if you encounter any challenges or issues, our dedicated technical support team is always ready to help.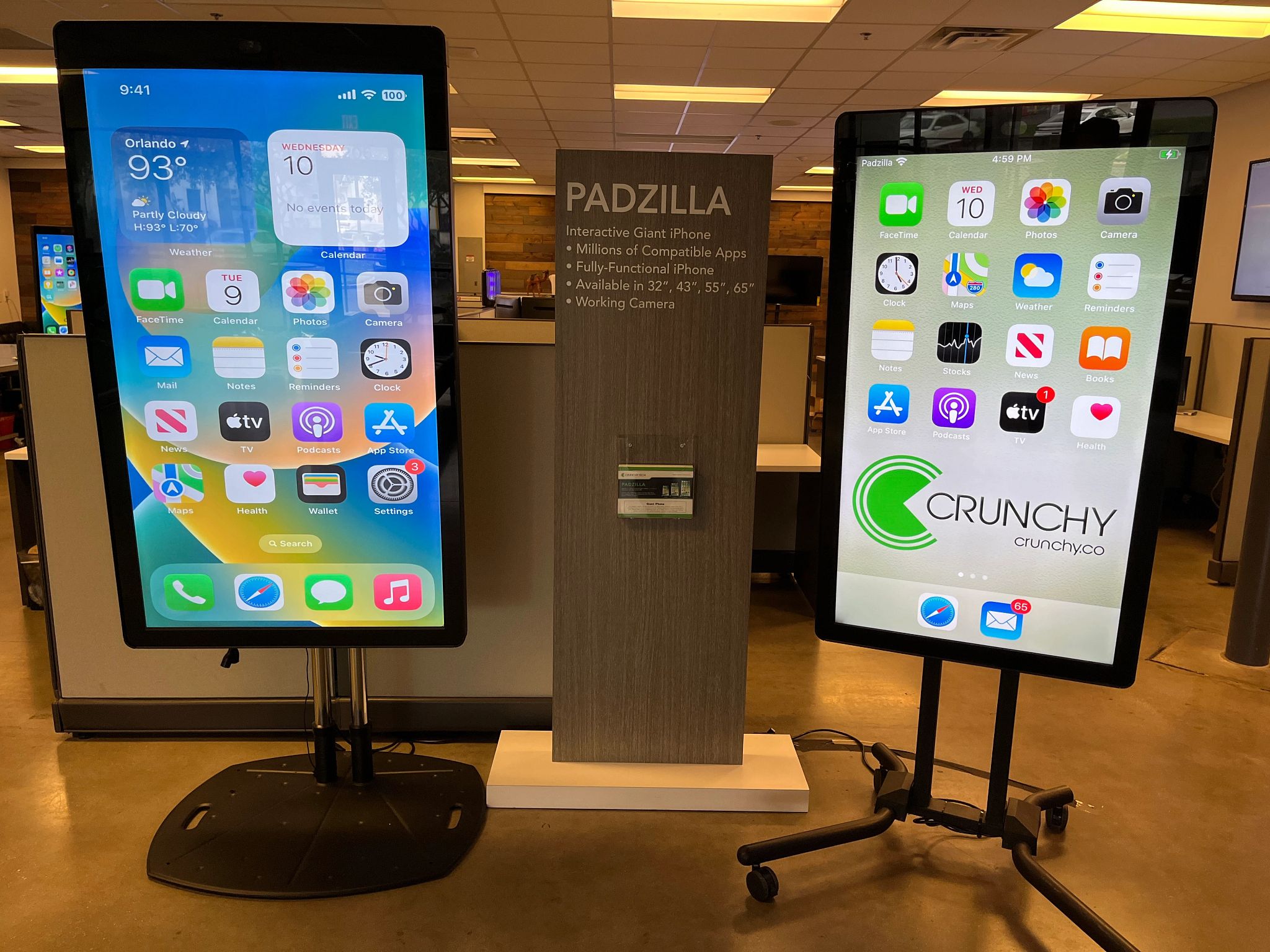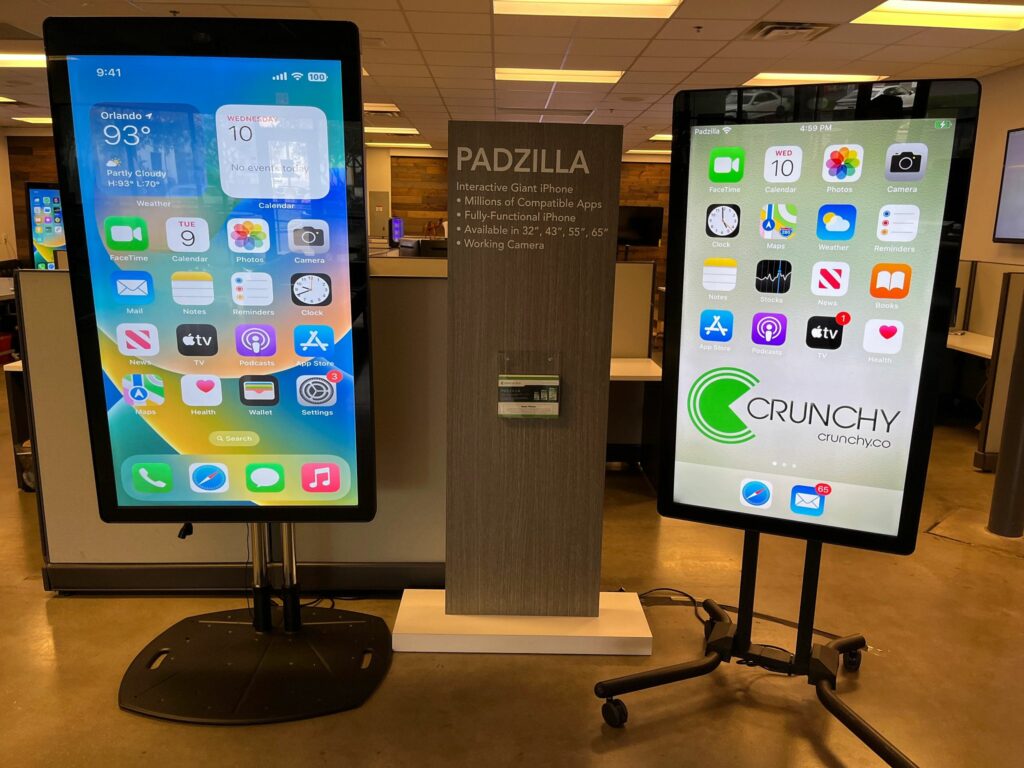 Engaging kiosk experience
Boost booth traffic when you rent our touch screen kiosk for your event
The Padzilla is the perfect solution for businesses looking to create an interactive and engaging experience for their customers. Whether you're a marketing agency promoting a new product or a hotel lobby looking to provide a seamless check-in solution, the Padzilla is versatile enough to meet your requirements. The multi-touch points and swipe-up functionality ensure that your customers can fully interact with your content, while the large screen size guarantees an immersive experience they won't forget. Plus, the programmable LED lighting at the base adds an extra touch of professionalism and style.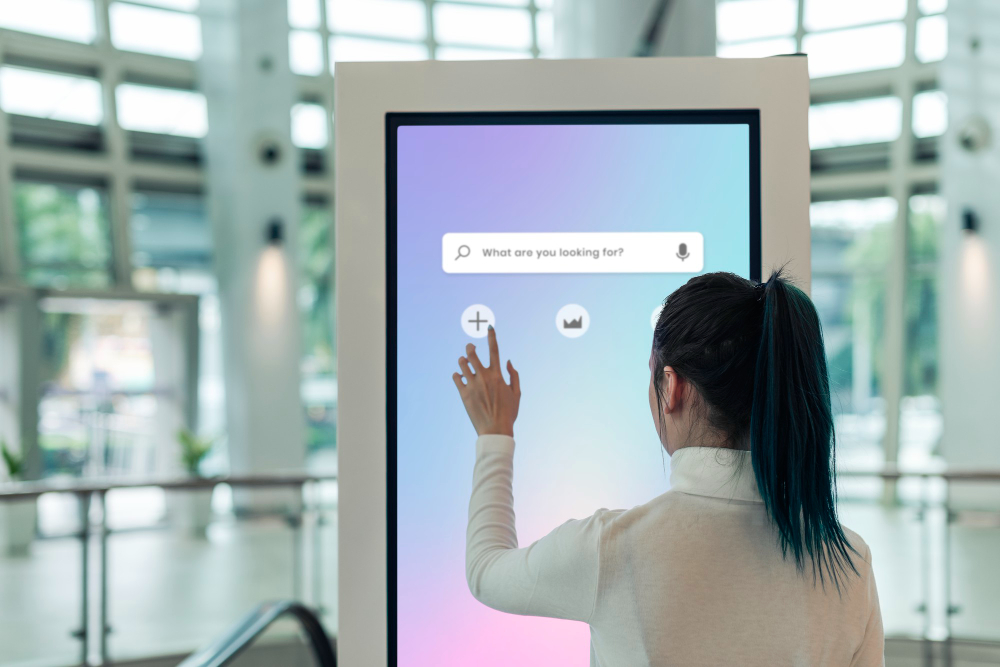 Start your rental process today!
From the multiple touch points to the swipe-up functionality and programmable LED lighting, the Padzilla has everything you need to make your brand stand out from the competition. The ability to fully customize your content and connect seamlessly to your iPhone is just the cherry on top. So if you're looking for a high-tech solution to help your business grow, Padzilla is the way to go.
Places Where Padzilla Has Been Rented