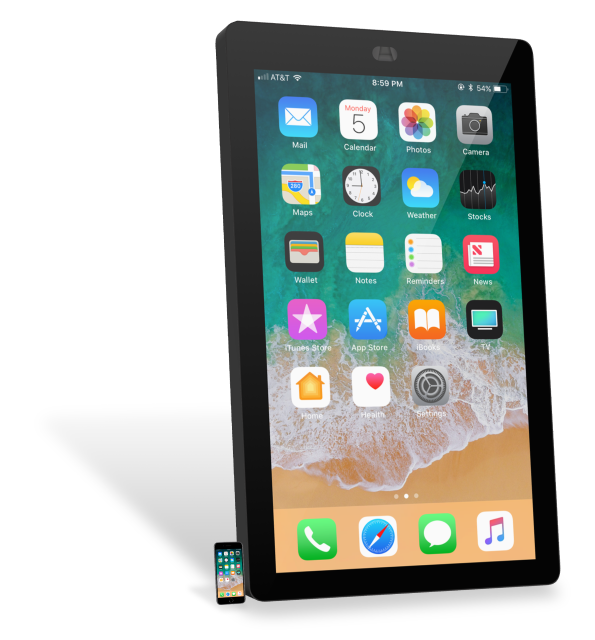 Giant iPad by Padzilla
Perfect Touch Screen Interactive Kiosk Display
If you are someone who has attended a tech conference, event or convention, you might have seen people interacting with a giant iPhone. That giant iPhone, in reality, is an interactive kiosk display called Padzilla. This fully functional and large iPad like touchscreen connects with your iPhone, giving you complete control over your device with just a swipe, volume control, and camera. It's the only screen display that is natively compatible to the Apple IOS system making it a giant iPad.
Why Padzilla?
Padzilla is a creation of Crunchy Tech – a renowned audio and video integration company based in Orlando, Florida. Since its inception in 2008, the company has been providing audio-visual solutions to businesses and clients alike. The idea behind Padzilla was to create an easy-to-operate touchscreen display that supports IOS natively. This gadget can be an innovative way for tech companies to showcase their brand and applications at trade shows effectively.
Fully operational touchscreen kiosk
Padzilla is not just a big iPad on wheels. It is a fully operational touchscreen kiosk that stands out in the crowd. The design is simple yet elegant, and it provides users with a unique experience by allowing them to control their smartphones on a larger platform seamlessly. Apart from its giant size, Padzilla can also recognize multiple touchpoints, enabling you to interact with your iPhone like never before.
Familiar Interface, Various Sizes
What makes Padzilla stand out from other kiosk displays is its intuitive interface which allows users to navigate smoothly, without any hassle. The device also has an inbuilt volume control option and camera feature that enables users to click pictures using the giant iPad itself. This iPad comes in various sizes, starting from a 43", 55", and 65 inch Padzilla, making it possible for businesses to customize their display to their specific needs.
Fits many needs
Padzilla has quickly become a popular accessory in the event industry worldwide. Its sleek design, easy navigation, and intuitive interface have landed it contracts with top tech companies and event planners globally. With its portability and easy setup, this gadget is perfect for trade shows, exhibitions, and conferences that require a professional-grade exhibit.
Buy or Rent a "Giant iPad" from Padzilla today!
In conclusion, Padzilla is a giant iPad designed explicitly for interactive kiosk displays. Its size, intuitive interface, and easy navigation make it stand out from other display tools. With Padzilla, businesses can display their apps and promote their brands effectively at various events, exhibitions, and conferences. Furthermore, it is easy to set up and portable, meaning you can take it around wherever you go. So if you want to create an impact at your next event, Padzilla is the perfect tool to showcase your brand and leave a lasting impression.
Need technical assistance?
Our support specialists are on standby ready to troubleshoot and resolve any issues you may be experiencing.