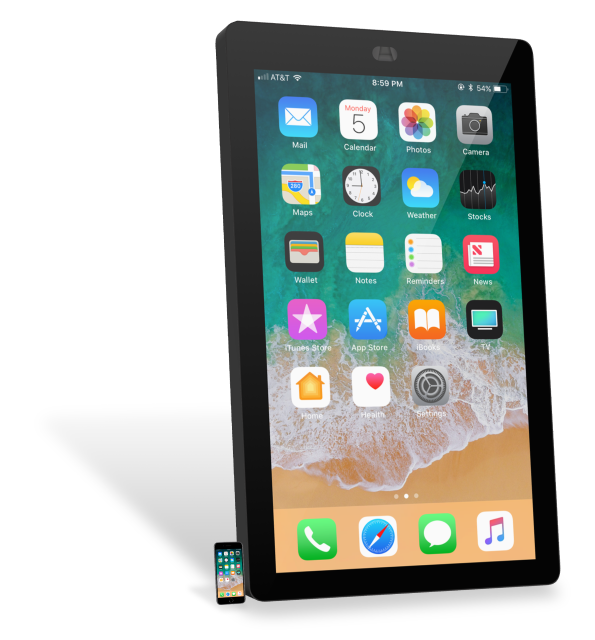 Giant iPhone by Padzilla
Experience the Ultimate iPhone with Padzilla Touch Screen IOS Solution
In today's fast-paced and technologically advanced world, businesses and individuals require innovative and creative solutions to stay ahead of the curve. And when it comes to presentations and showcasing your brand, what could be better than a giant iPhone?
Enter Padzilla, a fully functioning giant touchscreen tablet available in 43", 55", and 65" sizes that connects to your Apple iPhone to create a larger than life iPhone experience. This technology allows you to showcase your app, business website, and all types of media you currently use on an iPad but at a larger scale.
Why Padzilla?
Padzilla is the ultimate giant iPhone itab on wheels – a fully operational 43", 55", and 65" touchscreen solution that supports iOS natively. This innovative product is manufactured by Crunchy Tech, an audio and video integration company from Orlando, Florida. Padzilla is the brainchild of Jason Kumpf, founder and CEO of Crunchy Tech. He designed this touchscreen display to help tech companies showcase their brand and applications in a unique and innovative way at tradeshows and exhibitions.
So how does Padzilla work?
It connects to your iPhone like a typical iPhone screen protector or case, and allows you to control your iPhone through the giant touchscreen display. You can perform all the functions of your iPhone, including swiping, tapping, zooming, and selecting multiple touchpoints. Padzilla comes with built-in iPhone controls such as swipe up for home, volume control, camera, and more. It also supports multiple touchpoints, which means that multiple users can interact with the giant iPhone at the same time.
Upgrade your presentation with a giant iPad
Padzilla is perfect for businesses and individuals who want to take their presentations to the next level. For example, imagine giving a pitch to investors on a large touchscreen display that shows your product or service in an engaging and interactive way. Or picture showcasing your brand at a trade show with a larger than life, fully functioning iPhone display that is sure to turn heads and leave a lasting impression.
Moreover, Padzilla is not just limited to business applications. It can also transform your home entertainment system. Imagine streaming your favorite movie or playing your favorite video game on a giant touchscreen display. Or using it as a digital whiteboard to teach or collaborate with colleagues or friends.
Time to upgrade your presentations – Rent or Buy
In conclusion, Padzilla is an innovative and unique solution that allows you to experience the ultimate iPhone experience on a large touchscreen display. It is perfect for businesses and individuals who want to take their presentations, marketing, and brand to the next level. Moreover, it is also a great addition to your home entertainment system. Padzilla is a product that is sure to captivate your audience and leave a lasting impression. So why settle for a small iPhone screen when you can have a giant iPhone with Padzilla?
Need technical assistance?
Our support specialists are on standby ready to troubleshoot and resolve any issues you may be experiencing.