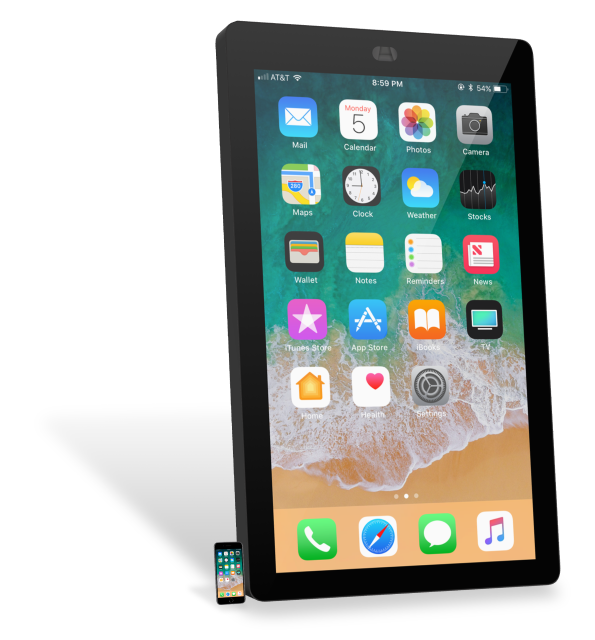 Giant iPhone Rentals
Rent a 43", 55", and 65" Giant iPhone called Padzilla
The Ultimate Giant iPhone Experience for Your Next Event
In today's world, technology innovation is a crucial factor for companies to stand out from the crowd and increase their brand awareness. Whether you're trying to showcase a new product, launch an app or simply create engagement for your brand, Padzilla, the giant iPhone, is the perfect solution for any event. Rent a giant iPhone today!
Interactive touchscreen display
Padzilla is much more than just a giant iPhone. It's a fully functioning interactive touchscreen display that connects to your iPhone to create seamless functionality. It's the perfect solution for trade shows, conventions, and company events because it allows you to take your branding to the next level and showcase your product or service in a unique way.
One of the main features of Padzilla is its versatility. It can host various apps to display your content. Your audience can interact with your brand, play games, or even take selfies, with the multi-touch capabilities of the giant iPhone. The touch screen are 43", 55", and 65", which makes it ideal for presenting demos, live feeds, and videos, without the need for any additional equipment, just an iPhone.
The large size and ability to customize Padzilla make it an excellent addition to any event. You can brand the giant iPhone to fit your company's colors, add your logo, and include graphics and messages to support your marketing campaign. The device is perfect for generating excitement and engagement, which helps to increase ROI at events.
Renting Padzilla is easy and hassle-free.
When you rent Padzilla, it's delivered to your event or location, and your team can set up easily, or you can choose to have our team set everything up for you. Once the event is over, Just pack and re-ship or have our team pack up and take everything away, making it simple for you and your team. You can rent Padzilla for a day, a week, or even a month, depending on your event's duration.
Padzilla is the ideal solution for showcasing your brand or product at any event. Its functionality and versatility make it a favorite among marketing and event professionals. Plus, renting it is a breeze, making it an excellent option for those without the budget to purchase such technology outright. By renting Padzilla, you can take your events to the next level of engagement and stand out from the crowd, leaving your guests with a memorable, interactive experience with your brand.