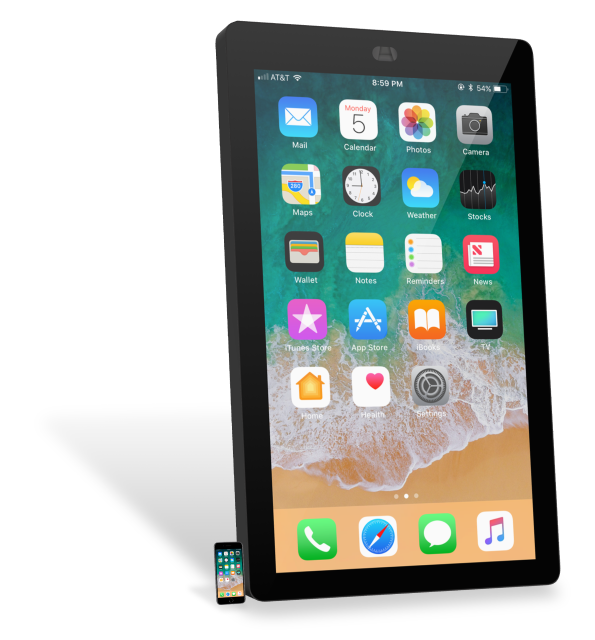 TV Rentals for Events
Don't Rent a TV, Rent a Padzilla
Padzilla is the ultimate solution for your next event
Experience the future of technology at your next event with Padzilla, The touch screen giant iPhone. With the demand for advanced gadgets on the rise, renting a TV for your event, trade show or booth has become a game-changer to customer experience – and Padzilla is leading the revolution.
What is Padzilla?
Padzilla is the ultimate tool for tech companies looking to showcase their applications and brand in style. This giant iPad-style touchscreen, seamlessly connects to your iPhone and generates a functional interactive TV kiosk touchscreen, complete with multiple touch points. With its 4k resolution, Padzilla provides stunning visuals that captivate and impress at trade shows and other events. Made by Crunchy Tech, an Orlando-based audio and video integration company founded in 2008, Padzilla was created to meet the unique requirements of businesses seeking easy-to-use, high-quality touchscreen displays that natively support iOS. Whether you're looking for the ultimate giant iPhone or TV rentals for events, Padzilla is the perfect choice.
Various Sizes with 4K resolution
Padzilla comes in 43", 55", and 65" sizes, making it easy to select the screen size that best fits your event space and AV needs. No matter what the size of your event, Padzilla's versatility caters to all your tv screen size needs, making it the perfect addition to your next event.
This giant iPhone-like device boasts a crystal-clear 4k touch screen, perfect for impressing your clients or guests. Created by Crunchy Tech, a highly-respected audio and video integration company from Orlando, the Padzilla is a fully operational kiosk-like touchscreen that enhances business branding and application displays. Imagine your event attendees being able to physically swipe up for home, control volume, and use the camera function all on a massive touchscreen. Instead of renting a TV its time to upgrade to a Padzilla.
Create a better event experience
In today's world, everything is about the experience. Padzilla provides an interactive and exciting experience that sets your event apart from the rest. It's the ideal device for showcasing your brand, application, and general function to your audience. Its large touchscreen and multiple touch points allow attendees to interact with the content effortlessly. The Padzilla's ability to connect to your iPhone means that it's a perfect solution for displaying photos, videos, and presentations. It creates a modern, sleek experience that puts your brand on display and captivates your audience.
Easy to Use, Just like an iPhone
It's easy to set up and use Padzilla; even those who are not tech-savvy can easily operate the device. Thanks to its intuitive, user-friendly design, attendees at your event can effortlessly engage with the touch screen. It's especially an excellent option for companies showcasing their applications and products at trade shows.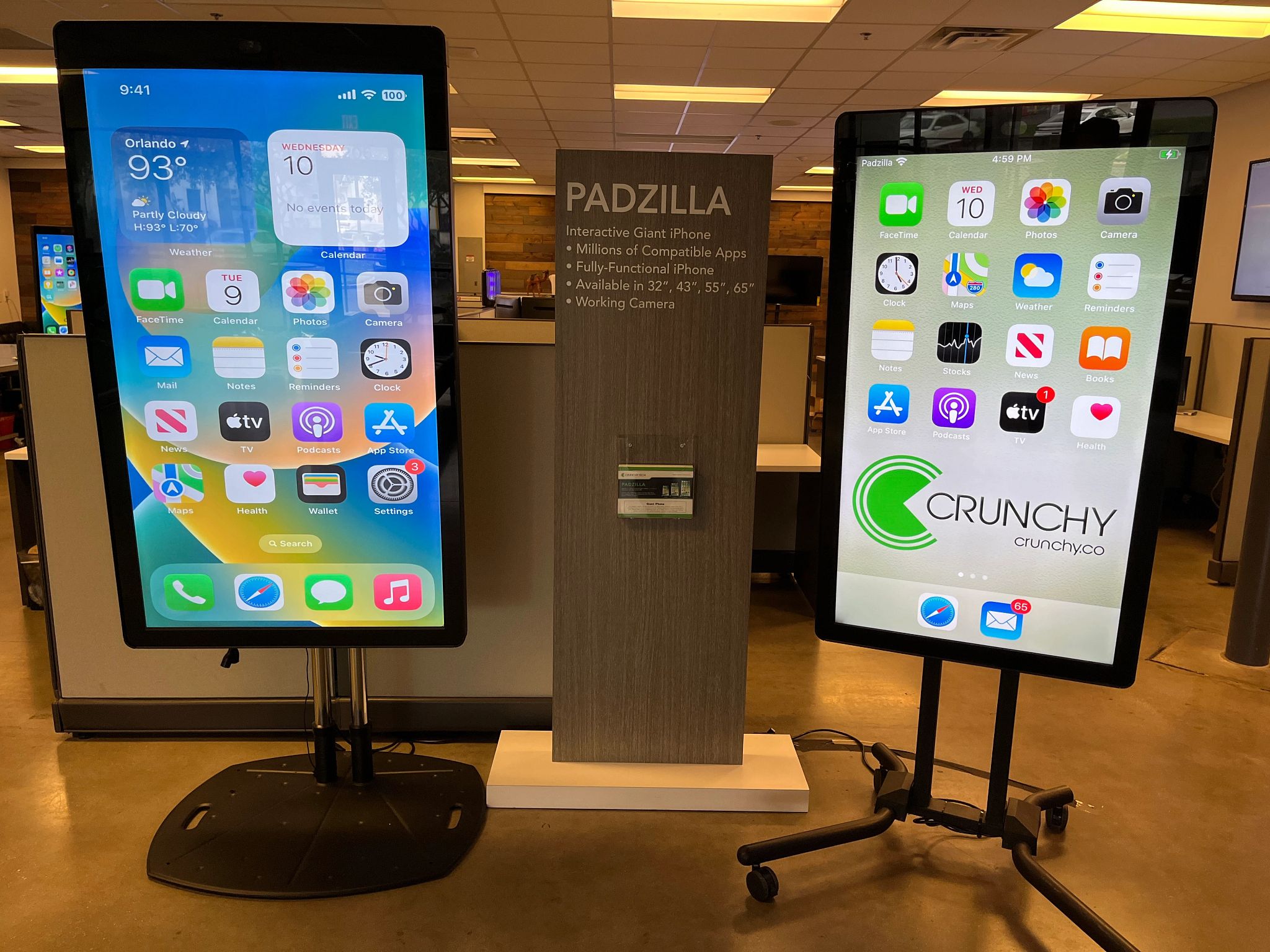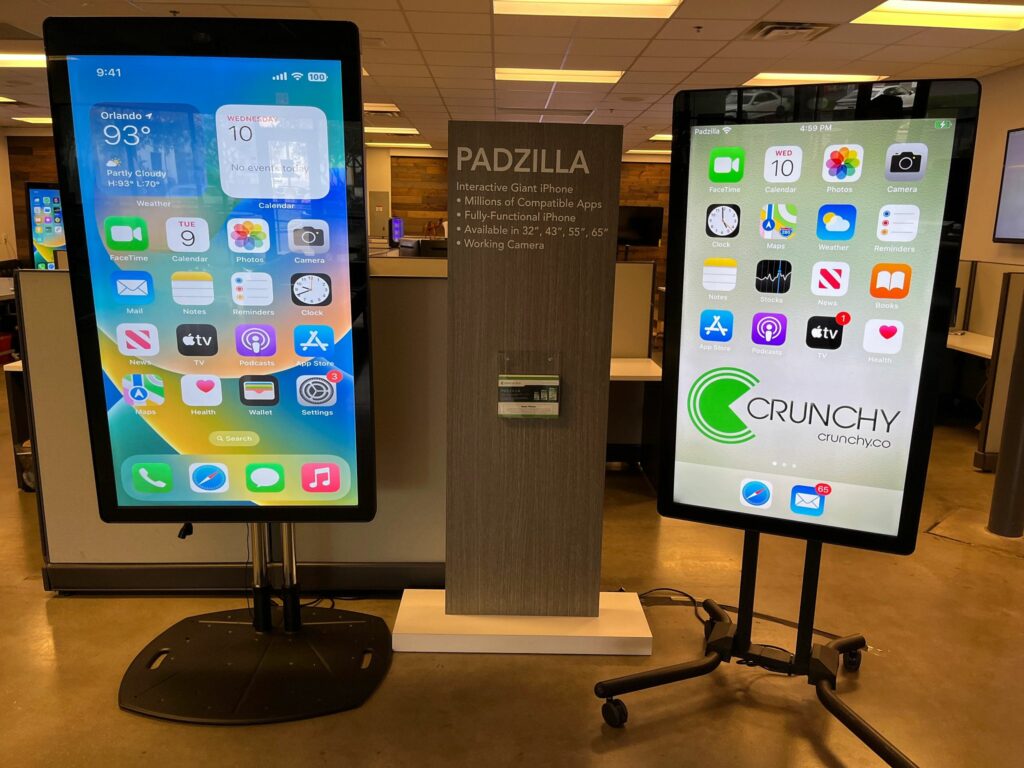 User-friendly experience with Apple IOS
Padzilla is user-friendly. Its IOS native display makes it easy to use, and attendees require no prior knowledge of its operation. Its intuitive interface ensures that attendees can explore all the content with ease. Padzilla's user-friendly nature also means that you don't need to hire a technical team for support during your event. In essence, it saves on cost and hassle.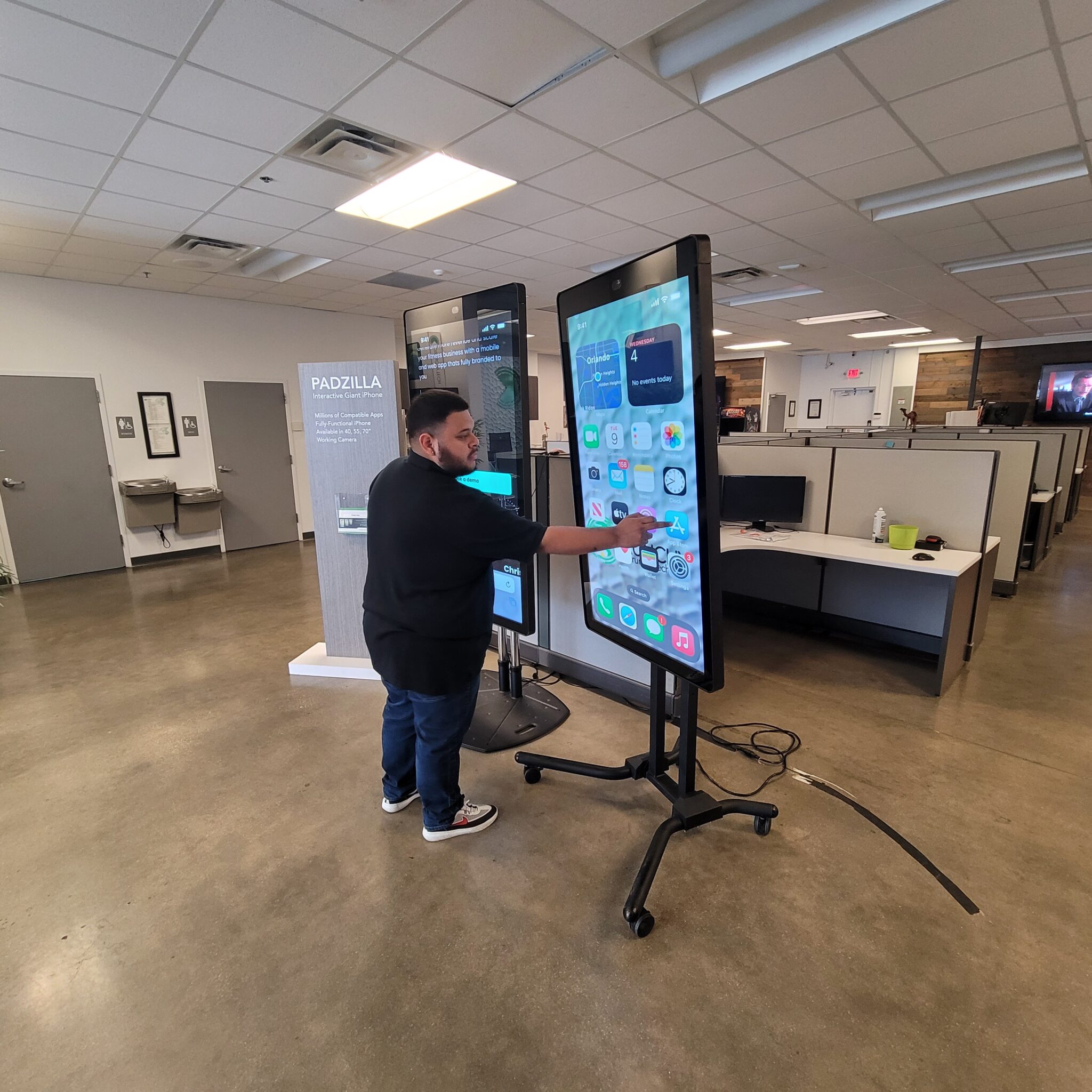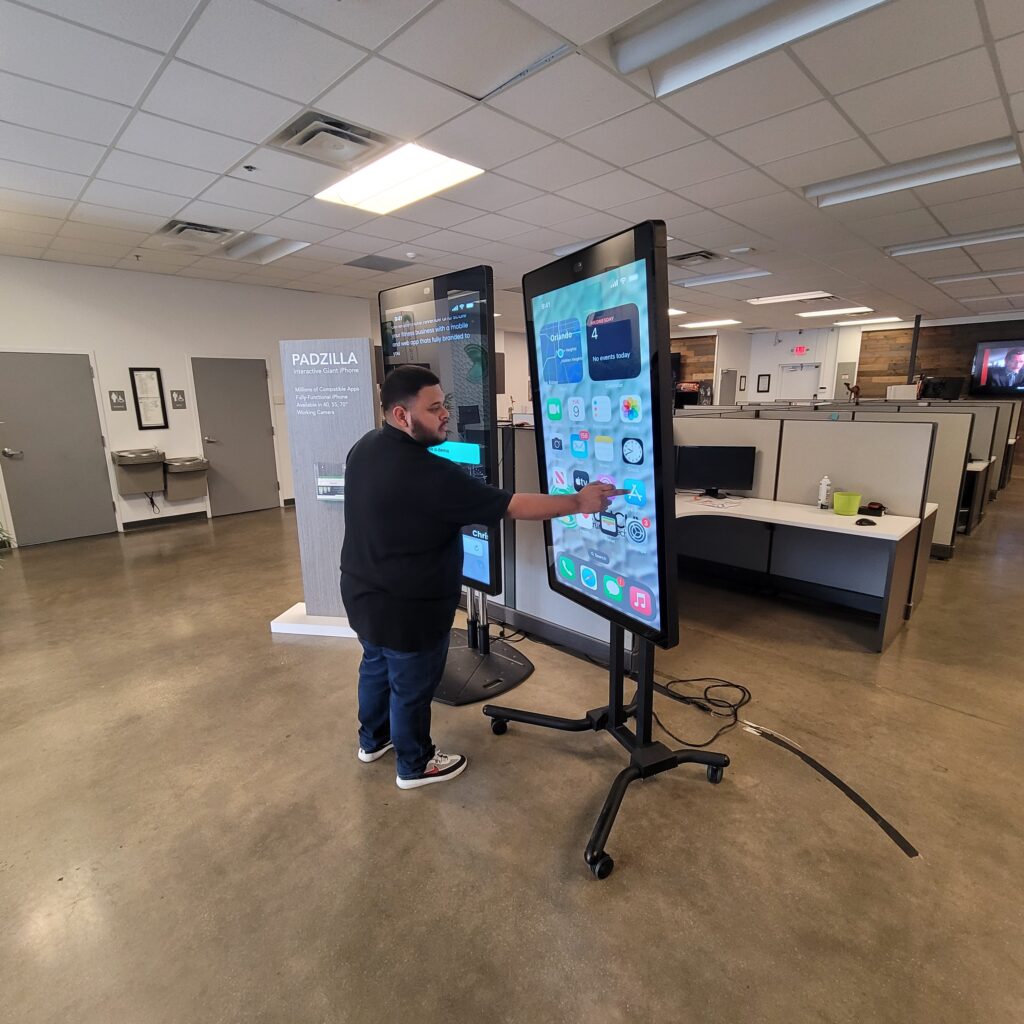 Don't Rent a TV, Rent a Padzilla!
Padzilla offers an unforgettable experience that makes it the ultimate solution for events. It's customizable, versatile, and user-friendly. It provides attendees with an interactive platform that offers brand engagement, while its mobility makes it easy to set up and design. Its IOS compatibility provides a seamless connection to your iPhone, enabling you to display photos, videos, and presentations. Ultimately, choosing a Padzilla at your next event means that you are creating an experience that will resonate with your attendees long after the event.
Need technical assistance?
Our support specialists are on standby ready to troubleshoot and resolve any issues you may be experiencing.