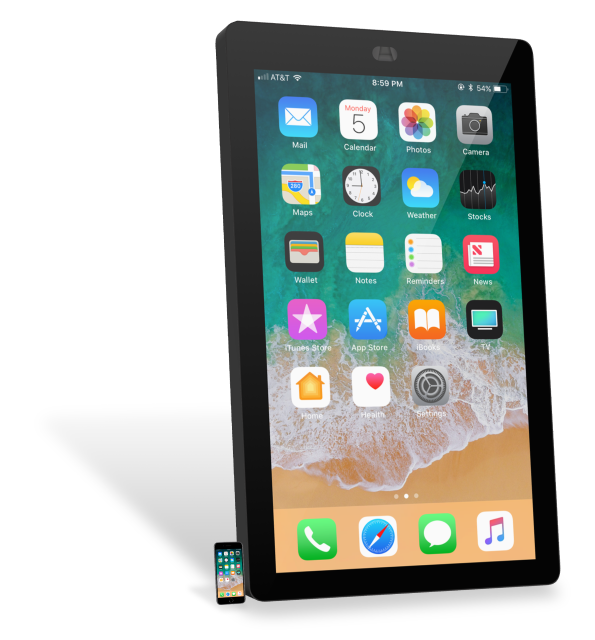 Giant iPhone For Sale
Buy a 43", 55", and 65" Giant iPhone called Padzilla
The Ultimate Interactive Touch Screen Solution
In today's world, technology has brought us many innovations that were once just thought to be a dream. Staying up to date with the latest gadgets can be both fun and essential, especially when it comes to your business. One of the latest additions to the technology world is the Padzilla, the giant iPhone that is perfect for your business or next event. The Padzilla is available in sizes ranging from 43 inches, 55 inches, to 65 inches making it perfect for any size booth or business space. This touch screen display has taken the world by storm, and it's something you need to have for your business. 
Why Padzilla?
Padzilla is a revolutionary large touch screen that provides you with a fully functioning, large smartphone display that connects to your Apple iPhone device, creating a giant iPhone with swipe up for the home button, volume control, camera, and multiple touchpoints. This kiosk-like touchscreen is perfect for business presentations, conferences, conventions, trade shows and events, app and brand displays.
This revolutionary giant iPhone accessory was created by Crunchy Tech, a national audio and video integration company from Orlando FL. They started in 2008 with the goal of integrating an easy-to-use touchscreen display that supports and is compatible to the IOS natively to help tech companies showcase their brand and applications at trade shows in style.
Operational capabilities in an attractive design
This giant iPad has been gaining popularity since its launch, attracting visitors to booths and attracting attention to apps and business banners, offering full operational capabilities in an attractive design. The demand for Padzilla growth is unrelenting, drawing in remarkable interest in international markets. It is now making rounds across New York, London, Dubai, and Los Angeles. It is not surprising that Padzilla has become a trend in not just business presentations and promotional events, but educational and recreational events as well.
The Padzilla is a great choice for anyone who wants to make a statement with their product presentations and displays. It offers an interactive and engaging experience to audiences, making them feel like they're part of the product. Its design and features are perfect for showcasing anything, from the new features of an app to the services offered by a company. It is also perfect for interactive games or to entertain guests at corporate events, weddings, and parties.
Buying a Padzilla is easy and hassle-free.
The Padzilla offers you the opportunity to take your presentations and events to the next level, offering a visually appealing and interactive display that is sure to turn heads. Its design and features make it one of the most innovative products in today's market. It's a wise investment for your business in the digital age. Think of Padzilla as the giant canvas for your brand! So what are you waiting for? Buy a Padzilla today and start making an impact!