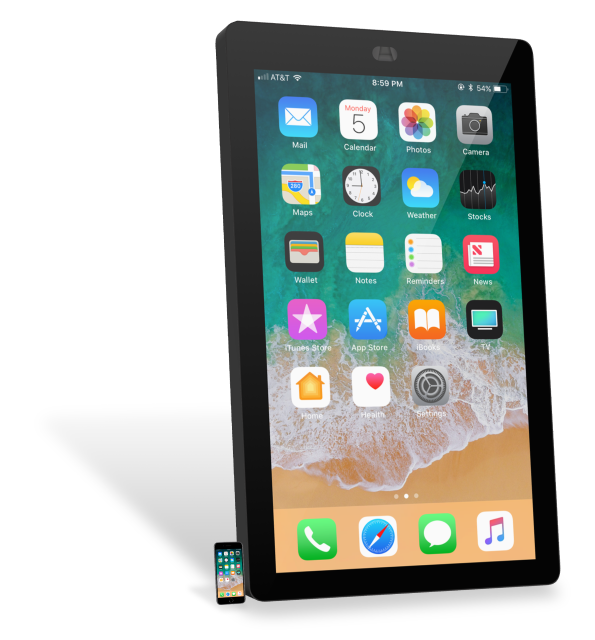 Giant iPad Rental
Rent a 43", 55", and 65" Giant iPad called Padzilla
The Ultimate Giant iPad Experience for Your Next Event
If you're looking for a unique and powerful way to showcase your brand at a conference or trade show, look no further than Padzilla – the "Giant iPad" that's taking the world by storm. Whether you want to display your app, boost traffic to your booth, or create an interactive presentation to showcase your business, Padzilla is the perfect solution for your next touch screen kiosk rental.
What is a Padzilla?
Simply put, it's a "Giant iPhone" touchscreen tablet that connects to your iPhone to create a larger-than-life version of your favorite device. It comes in 43", 55", and 65" inches all available for rent today. With multiple touch points, swipe-up navigation, volume control, camera access, and more just like a smartphone, Padzilla offers all the functionality of an iPhone in a larger, more interactive format and nativly works with Apple IOS to support any use from apps to even Snapchat. And with Crunchy Tech, the company behind Padzilla, based in Orlando, FL, rest assured that this device will make a lasting impression at your next event.
Padzilla Vs Giant iTab
Experience the power of Padzilla
Padzilla is the ultimate eye-catching interactive digital signage and interactive touch screen kiosk. With its large screen and intuitive interface, attendees will be captivated and intrigued by what you have to offer.
What sets Padzilla apart is its seamless integration with Apple IOS, bringing the functionalities of a giant iPhone to life. Your guest and potential business partners can pinch, tab, swipe just like you do with smartphones. Whether you're showcasing an app, product, or brand, Padzilla's adaptability and interactivity will make a lasting impression on audiences of all sizes. Don't blend in – stand out with Padzilla.
Easy to set up and use
Another benefit of renting a Padzilla is that it's easy to set up and use. Crunchy Tech provides all the necessary equipment and support to ensure that your new giant iPad display runs smoothly, so you can focus on engaging with attendees and showcasing your brand. Have guest browse and interact with your mobile pp, play video of your latest products or browse latest digital content including websites. 
Padzilla Rental Process
When it comes to renting a Padzilla, the process is straightforward and flexible. You can rent for a single event or multiple events, depending on your needs, and Crunchy Tech offers competitive pricing. Plus, they'll provide support throughout the rental process, so you don't have to worry about a thing. Why not rent a giant iPhone dispay for your next event? Call us today for a quote 407-542-2636
Renting Padzilla is easy and hassle-free.
Renting a Padzilla for your next event is a surefire way to make a memorable impression on attendees and showcase your brand in style. Whether you're displaying an app, engaging with customers, or presenting at a conference, Padzilla offers a unique and powerful way to stand out from the crowd. And with Crunchy Tech's support and expertise, you can rest assured that your rental experience will be seamless and stress-free. So why wait? Rent a Padzilla today and take your brand to the next level!